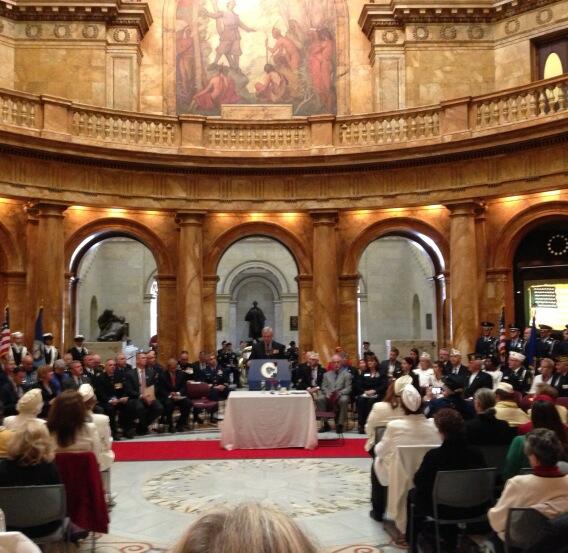 Each year, Veterans Day allows us an opportunity to both honor the brave men and women who have served on behalf of our nation, as well as to reflect on the ways we can maximize resources to provide the finest services to all generations of veterans.  Massachusetts leads the nation in providing services to our 385,000 veterans and their families, and we have advanced community-based initiatives in partnership with Department of Veteran Services, Department of Public Health, and Department of Mental Health and community providers to ensure the maximization of resources to provide the finest services to all generations of veterans.
Throughout the month of November, HHS Secretary Polanowicz celebrated the years of service of our Commonwealth's veterans and the statewide advances for veteran empowerment made under the Patrick Administration.
In early November, Secretary Polanowicz spoke at Women Veterans Appreciation Day. Thanking the brave women who have served and continue to serve valiantly, the Secretary highlighted the nearly 15,000 women in the Commonwealth that make up 15% of our Commonwealth's Air and Army National Guard, as well as the 31,000 women veterans who live here.
At the Veterans Day Ceremony, Secretary Polanowicz joined Governor Patrick, Attorney General Martha Coakley, Treasurer Grossman, and Secretary of Veterans' Services Coleman Nee in thanking veterans for their service; "As a veteran, a resident of the Commonwealth and a member of the Administration, I thank the men and women who have chosen to serve and will continue to create meaningful partnerships to ensure their success when they return home," Polanowicz said.
Later this month, Secretary Polanowicz will join Judge Hogen Sullivan to congratulate the veteran graduates from the Dedham Veterans' Treatment Court, and as part of "Hire a Veteran Month" Secretary Polanowicz will be making a donation to the Veterans Clothing Collaborative, which provides veterans with appropriate dress clothes for interviews.
Click here for more information on how Massachusetts supports veterans year round. 
Click here to learn more about the coordinated community-based services available for veterans and their families. 
Recent Posts
What You Need to Know about MassOptions!
posted on Nov 25
The number of older adults and individuals with disabilities in Massachusetts is rapidly growing. We know that navigating programs and services can sometimes be complicated, and we are committed to facilitating better access for the people we serve. That is why the Baker-Polito Administration along …Continue Reading What You Need to Know about MassOptions!
A picture is worth a thousand words…
posted on Nov 24
A picture is worth a thousand words.  It also could be worth a new home for a child in need. "There is something about seeing the face of a child awaiting adoption that speaks to the heart," said Jake Murtaugh with MARE, Inc. "Each picture …Continue Reading A picture is worth a thousand words…
Women Veterans Recognized for Service and Strong Network at Appreciation Event
posted on Nov 10
The Commonwealth of Massachusetts is proud to honor all of those who have served our country in the armed forces this Veteran's Day. Massachusetts is also proud to have a strong Women Veteran's Network that acts as a central resource for women veterans. Established in …Continue Reading Women Veterans Recognized for Service and Strong Network at Appreciation Event