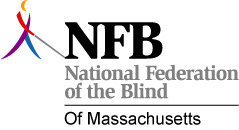 The National Federation for the Blind (NFB-MA) of Massachusetts held their 61st annual state convention Friday, February 28 through Sunday, March 2, 2014 a in Boston. Founded in 1940, the NFB is the oldest and largest nationwide membership organization of blind people in the United States and as an advocacy group for the civil rights and equality of blind Americans, it develops innovative education, technology, and training programs to meet those goals.
Massachusetts Commission for the Blind (MCB) Commissioner Paul Saner was on hand to provide welcoming remarks on the penultimate day of the conference.  In addition to reviewing agency objectives, Commissioner Saner spoke about the collaborations across the Office of Health and Human Services agencies and non-profit organizations to enhance services that support the full inclusion of the blind community. The Commissioner announced a new partnership between MCB and the Department of Development Services will allow a complete a data match across agencies to help MCB evaluate current services and effectively plan for future needs. Following his remarks, Commissioner Saner participated in a "Leadership Roundtable" discussion with Barbara Salisbury, President, MAB Community Services; Brian MacDonald, President, National Braille Press; Steve Rothstein, President, Perkins School; and Joe Abely, President, Carroll Center.
The Convention also included organizing blind advocacy events, hearing from and speaking to state leaders, socializing with individuals who are blind from across the Commonwealth and the nation, awarding a scholarship to a blind student from MA, and planning for their 2014 advocacy agenda.
Talking Information Center (TIC) live-streamed the convention via the Massachusetts Radio Reading Service. The audio streams can be accessed here: Morning Session; Afternoon Session 1 and Afternoon Session 2.
More information about NFB-MA can be found on their website http://www.nfbmass.org/ or follow NFB-MA on Twitter @NFBMA.
The Massachusetts Commission for the Blind provides the highest quality rehabilitation and social services to blind individuals, leading to independence and full community participation. To learn more about MCB's services and supports please visit: http://www.mass.gov/mcb.
Recent Posts
The Commission on Bullying Meets to Discuss Ways to Prevent Bullying in Public and Subsidized Housing
posted on Jul 13
The concept of bullying has increasingly become a widespread issue affecting many individuals in the Commonwealth of Massachusetts, especially elders and those with disabilities. In order to resolve bullying in public and/or subsidized housing, all members who are affiliated with the housing community must be …Continue Reading The Commission on Bullying Meets to Discuss Ways to Prevent Bullying in Public and Subsidized Housing
Massachusetts Commission LBGTQ Youth Swearing In
posted on Jun 20
Secretary Marylou Sudders, Senate President Stan Rosenberg, members from the Legislature, and members of the Lesbian, Gay, Bisexual, Transgender, Queer, and Questioning Youth (LGBQT) Commission came together in the beautiful State House Library to recognize and celebrate the LGBQT Massachusetts Commission. Established 25 years ago, …Continue Reading Massachusetts Commission LBGTQ Youth Swearing In